GE's Immelt Wins Back the Analysts
Analysts almost gush on the conference call about the sale of most of GE Capital.
by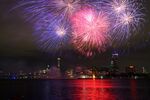 Sell-side analysts have gotten a lot less cheerleadery over the years in their conference calls with corporate executives. My (possibly exaggerated) memory of earnings calls in the late 1990s is that if a company beat estimates, almost every analyst prefaced his or her questions with a "great quarter,  guys." That doesn't happen much anymore -- and probably hasn't since Eliot Spitzer waged war on the analysts and their happy talk as New York's attorney general in the early 2000s.