Editorial Board
It's a Race, Hillary, Start Running
If Hillary Clinton wants to be president, she's going to have to work for it.
by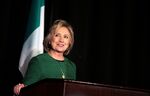 Well, it's a start. "I'm hitting the road to earn your vote," Hillary Clinton said in a video released Sunday. It's a big country, so if the former first lady, former senator and former secretary of state is going to earn votes, it makes sense to meet a few of the people who will cast them. 
At the moment, the competition she enters isn't much of a race. She has already outmuscled many prospective rivals. She doesn't quite stand alone, but potential competitors for the Democratic nomination look puny by comparison. Money, organization, endorsements, political and policy expertise -- the building blocks of a successful campaign are all in place for her.
Therein lies a dangerous temptation. Thus far, Clinton has had the luxury of holding back while Republicans scramble. Her much-anticipated announcement video featured all the verve, substance and grit of a detergent ad. Staying on a scripted, cautious course may seem appealing. After all, Clinton needs no introduction. Why heave herself into the mosh pit of face-to-face campaigning when Facebook, Twitter, Instagram and the like can transmit her messages remotely?
Here's why: Because any notion that Clinton is merely coasting to her party's nomination risks alienating voters, who expect the honor to be earned. 
The Clinton campaign has signaled that she will fight for a nomination that appears already hers. That would be wise. American politics relies on familiar rituals -- fish fries and county fairs and, for Democrats, Jefferson-Jackson dinners cooked and eaten (with due caution) far from the coasts. Some of these rites are as corny as Kansas in August. Yet they are as vital as Iowa in January.
Clinton has endured this circuit so many times -- in her husband's campaigns and her own -- that she might flinch at the prospect of more rubber chicken. Regardless, she needs to tuck in. Above all, she needs to spell out not just themes but also policies. 
Clinton will benefit from putting her most vigorous -- and vulnerable -- self forward rather than playing it safe. She must talk to voters and hear from them. She needs to answer awkward questions and cope with stress. She should pick up right where she left the grueling marathon of the Democratic primary of 2008.
Clinton is a qualified and compelling candidate. Her case to be the first female commander-in-chief is strong. But if she wants the job, she'll have to work for it.