Iran's Supreme Leader Gets to No
The disagreement between Obama and Khamenei gets to the heart of whether the Iran nuclear framework is a good or bad deal.
by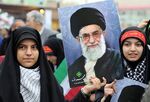 Here's the thing about agreements. The parties that enter into them have to actually, you know, agree.
Take the Iran framework agreement, for instance. President Barack Obama says he has one on the basics of the nuclear deal with Iran. He doesn't. How do we know this? Because Ayatollah Ali Khamenei, the Supreme Leader of Iran -- the only person who decides on this matter -- says he hasn't agreed to the most important elements of the deal as laid out in the White House fact sheet.
Negotiations like this are always messy. But the disagreement between Khamenei and Obama gets to the heart of whether this is a good or a bad deal. Obama says the sanctions on Iran would be relieved over time and could be snapped back. This gives the U.S. and its allies leverage if Iran defies inspectors from the International Atomic Energy Agency or goes back on its word, as it has on previous arms control agreements. Here's how the White House fact sheet released the day the framework agreement was announced on April 2 describes that mechanism: "U.S. and E.U. nuclear-related sanctions will be suspended after the IAEA has verified that Iran has taken all of its key nuclear-related steps. If at any time Iran fails to fulfill its commitments, these sanctions will snap back into place."
Khamenei says he will only agree to a deal if all the sanctions are lifted up front, upon Iran's signature. In Khamenei's version of events, the only realistic leverage the U.S. and the west would have against Iran would be to bomb its nuclear facilities.
Over the weekend, Obama addressed this inconsistency at this year's Summit of the Americas where he met with long-time U.S. foe, Cuban President Raul Castro. "Even a guy with the title 'Supreme Leader' has to be concerned about his own constituencies," the U.S. president told reporters.
At first blush this seems ridiculous. A feature of Iran's political system is that Ayatollah Ali Khamenei does not have to stand for election. Indeed in 2009, he was accused by supporters of Mir Hossein Mousavi of stealing the presidential elections so that the Jew-obsessed Mahmoud Ahmadinejad would retain the presidency. It's not as if Iran's supreme leader has to worry about early states in an upcoming primary.
But even dictators have to grapple with politics. Khamenei doesn't wield total power. He still has to reckon with rival reactionaries in the Assembly of Experts, the revolutionary guard corps and other cogs of Iran's dictatorship. These are different politics than what Obama or elected leaders must face, but they are politics nonetheless.
Even so, it's still credulous for Obama to dismiss the supreme leader's statements. Khamenei not only criticized the White House version of the deal at a public speech for Iran's National Day of Nuclear Technology. Khamenei's social media team made sure also to tweet out the supreme leader's hot take on the White House fact sheet in his English language account.
One such tweet was, "Hours after the #talks, Americans offered a fact sheet that most of it was contrary to what was agreed. They always deceive & breach promises." Iranian dissidents have been jailed for their tweets, and Twitter is blocked in Iran. So what constituency was Khamenei trying to assuage with this one?
Not to worry. Enter John Kerry, Obama's secretary of state. On Sunday, Kerry appealed to a higher authority on this matter, the Russian Foreign Ministry. On ABC's This Week, Kerry said that what he and Obama have been saying about the framework agreement is "based in facts." "And yesterday," Kerry added, "the Russians issued the statement saying that the fact sheet or the facts as expressed by the United States are reliable and accurate information." Russia is one of the six parties negotiating with Iran over its nuclear program in a group known as the P5 plus 1.
A State Department spokeswoman told me Kerry was referring to an interview Russian Deputy Foreign Minister Sergei Ryabkov gave to the Interfax news agency. It's true that Ryabkov said, "The fact sheet published by Washington contains truthful and reliable information about the understandings reached in Lausanne." But even Ryabkov said a number of issues remain unresolved. These include "the amount and sequence of lifting the restrictions imposed on Iran, as well as the possibility of cancelling the UN Security Council's existing resolution for Iran," Ryabkov said.
But let's say the White House fact sheet is correct in its entirety. For what it's worth, Iran's foreign minister also said the fact sheet was "spin," the day it was released. And it's not an agreement until the supreme leader agrees. That's the thing about agreements. All parties have to agree.
This column does not necessarily reflect the opinion of Bloomberg View's editorial board or Bloomberg LP, its owners and investors.