Will Obama Shine Light on Dark Money?
Corporations don't want to disclose their political donations. Can Obama make them?
by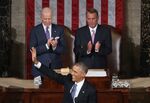 A coalition of liberal groups is pressing President Barack Obama to sign another controversial executive order. With no chance that Republicans in Congress will pass campaign finance disclosure laws, the groups want Obama to strike a blow for transparency on his own, requiring companies with government contracts to disclose all of their political activity, including contributions to political groups that don't disclose the names of donors.