U.K. Markets Swoon From Election Fever
The most exciting/divisive/unpredictable U.K. election in decades is starting to ping the risk radar of the global investment community.
by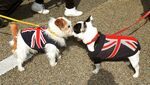 The most exciting/divisive/unpredictable (take your pick) U.K. election in decades is finally starting to ping the risk radar of the global investment community. The prospect of a hung Parliament, with neither Labour nor the Conservatives winning enough seats to form a government, and both reluctant to co-opt a smaller party into a full coalition, is making investors wary of owning U.K. assets.
QuickTake Fractured Parliament
The distress is most evident in the currency market, where the British pound tumbled to its weakest in five years against the dollar on Friday morning, as this chart illustrates:

The government bond market is also showing signs of stress. The gap between what investors charge the U.K. government to borrow for a decade versus how much they charge Germany has been widening in recent weeks. British gilt yields have edged higher while German bund yields continue their descent toward zero:

Some of that move is due to what's happening in the euro zone, where the European Central Bank is making good on its pledge to buy 60 billion euros ($64 billion) of government debt each month, driving yields lower. But foreign investors dumped a net 14 billion pounds of U.K. government debt in January and February, suggesting overseas distaste for gilts is also playing its part in widening the borrowing gap against Germany.
The equity market isn't unscathed by political concerns. The benchmark European stock market index, the Stoxx Europe 600, has outpaced the U.K.'s FT-SE 350 index by 0.75 percent since the gilt market started to take fright on March 25. On an annualized basis, that means U.K. stocks are delivering almost half the return investors can achieve in European equities.
The market moves provide a timely reminder that domestic politics can be just as unsettling for financial markets as geopolitical ructions, albeit on a more parochial basis. As the U.S. presidential race gets properly under way with Sunday's anticipated announcement by Hillary Clinton, investors should take heed. 
This column does not necessarily reflect the opinion of Bloomberg View's editorial board or Bloomberg LP, its owners and investors.
To contact the author on this story:
Mark Gilbert at magilbert@bloomberg.net
To contact the editor on this story:
Paula Dwyer at pdwyer11@bloomberg.net
Before it's here, it's on the Bloomberg Terminal.
LEARN MORE