Modi Needs German Lessons in Manufacturing
The East Asian model may not be the right one for India.
by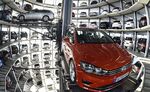 On his first trip to Germany this Sunday, Indian Prime Minister Narendra Modi will join Chancellor Angela Merkel to inaugurate the world's largest industrial fair, Hanover Messe. No doubt Modi's eager to showcase his "Make in India" campaign in the manufacturing powerhouse of Europe. But it'll take much more than a slick marketing campaign to attract fair participants to set up shop in India. Unlike Germany (or indeed Japan, the U.S. and China) India has never been a leading manufacturing hub -- not during its socialist years, nor since the country shifted to a market economy more than two decades ago.