Latin America Will Tackle Corruption Later
At the Summit of the Americas, there's an invisible elephant in the room.
by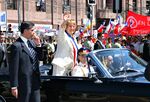 When Latin American heads of state sit down in Panama City starting Friday for the 7th Summit of the Americas, one empty chair will stand out. Officially, Chilean President  Michelle Bachelet will stay home to oversee the reconstruction of stretches of northern Chile devastated by torrential rains and flash floods.