Editorial Board
Latin America Has a Growth Problem
Latin America's economies face a brewing perfect storm that no photo ops will solve.
by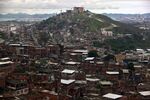 Latin America's economies are in serious trouble. The region's growth is down to levels last seen in the 1990s, and its debts are heavy and getting heavier. Addressing this grim prospect should be topic No. 1 for the 35 heads of state meeting this week at the Summit of the Americas. Sadly, it won't be.
Sure to command the most attention are two diplomatic dramas -- a possible meeting between U.S. President Barack Obama and Cuban President Raul Castro, who have pledged to restore ties, and a possible clash between Obama and Venezuelan President Nicolas Maduro, who has tried to make recent U.S. sanctions a regional cause celebre.
Both encounters are largely irrelevant to the summiteers' main challenge: how to meet the rising expectations of their voters amid sluggish economic conditions and fiscal adversity.
The scale of that problem is captured in a new forecast by the Inter-American Development Bank. Slower growth in China and a plunge in oil prices have hit the exports and tax collections of commodity producers. Governments and companies alike had already taken on more dollar-denominated debt to ride out the Great Recession. The prospect of higher U.S. interest rates and the fact of a much stronger dollar make those debts harder to service. Meanwhile, falling local currencies are pushing inflation higher.
The travails of South America's biggest economy are a severe case in point. Brazil faces slumping prices for the commodities that make up half its exports. Its economy may shrink by nearly one percent this year. Public debt has climbed to nearly 65 percent of gross domestic product. Its currency has weakened by 14 percent this year against the dollar, the biggest drop among the 31 most traded currencies.
Overall, the IDB predicts that growth in the region's economies over the next two years will be much worse than before the recession. Countries such as Venezuela, Mexico and Chile, which lean heavily on commodities for tax revenues, could take in an average of 9 percent less. Yet social spending in the region is trending higher, and fiscal balances have swung on average from a primary surplus of 2 percent of GDP in 2008 to a primary deficit of 1.5 percent in 2013 and 2014.

In a wide-ranging interview with Bloomberg News, Brazil's President Dilma Rousseff said she would do whatever it takes to get her country's fiscal house in order. What she didn't say is that Brazil's expansion of social benefits during its boom years, not to mention her election-year promises, helped cause the problem. Generous pensions, cash transfers, wage increases and energy subsidies lifted millions of Brazilians out of poverty and shielded them from the global financial crisis. They also cut the money available for investments in infrastructure and put an insupportable burden on government finances.
To satisfy citizens' economic hopes, this will have to change. Infrastructure and education should be the priorities. Efforts to widen the tax base and crack down on tax evasion, which is rampant, can help as well. Pensions and transfers should be targeted more carefully. Lower oil prices should make it easier to phase out subsidies and free up money for other uses.
The theme of this year's summit is "Prosperity with Equity" -- and that's certainly what the region needs. But getting there will require more than better fiscal discipline. Thornier issues such as spurring competition and getting more workers into the formal economy will also need to be faced. Above all, the region's governments need to lift the pall of high-level corruption that hangs over Santiago, Brasilia, Caracas and Mexico City, to name just four of the region's afflicted capitals.
Yes, it will be diverting to see what happens if Obama goes mano a mano with Castro and Maduro. Diverting in more ways than one. The encounters, if they happen, will be entertaining, but Latin America has far bigger things to worry about. 
--Editors: James Gibney, Clive Crook.
To contact the senior editor responsible for Bloomberg View's editorials: David Shipley at davidshipley@bloomberg.net.
Before it's here, it's on the Bloomberg Terminal.
LEARN MORE