India's Missing Investors
The country's stock rally is relying too much on foreigners.
by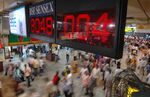 If Prime Minister Narendra Modi has delivered one thing in his first ten months in office, it's been electricity to India's stock markets. India's benchmark Bombay Stock Exchange (BSE) Sensex recorded a 31 percent jump in 2014. Only the insane runup in Shanghai's bourse -- up 90 percent in the past 12 months -- has overshadowed the Indian rally.