Clinton's Rivals Have Nothing to Lose
If Lincoln Chafee is running for the Democratic nomination in 2016, doesn't that mean Clinton is even more of a shoo-in?
by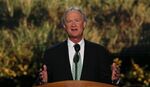 Lincoln Chafee, the unpopular former governor of Rhode Island, is the latest contender in the presidential sideshow – the one where a few folks pointlessly chase after Hillary Clinton for the Democratic nomination in 2016. 
Chafee, who told an interviewer today he's interested in running, has two big problems on paper. He has only recently become a Democrat, having first served in Congress as a Republican and then as the independent governor of Rhode Island. And he chose not to run for re-election because he was so unpopular that no one thought he had a chance of winning.
But we can set those issues aside. His more serious challenge is the calendar -- it's months too late for a candidate with his low national profile to get started -- and the inconvenient fact that Hillary Clinton has already (virtually) wrapped up the nomination. 
A quirk of U.S. politics is that anyone who meets the constitutional requirements can run for president. Dozens of ordinary people officially declare candidacies and maybe even enter a primary. Included in that "anyone" are, sometimes, honest-to-goodness politicians -- a Linc Chafee here, a Lindsey Graham there, or (in the past) an Orrin Hatch or a Dick Lugar or a Bob Graham. They seem to be running, but they never do the things serious candidates do. And they may seem clueless about it in the process, even those who are perfectly solid politicians outside of their misbegotten quests for the Oval Office. 
It's possible Chafee intends to run as a protest candidate. He mentioned his Senate vote against the Iraq war and Clinton's in favor of it. If so, that's a different story, although it would be more than a little odd to rebel against a war that ended some time ago. But there's a long and honorable tradition of protest candidates.
The tradition of clueless quasi-candidates? Not as long, not nearly as honorable, but sometimes an excellent source of campaign-trail humor. 
This column does not necessarily reflect the opinion of Bloomberg View's editorial board or Bloomberg LP, its owners and investors.