Masters in Business: Bobby Flay
Barry Ritholtz interviews restaurateur, TV cooking show host and cookbook author Bobby Flay.
by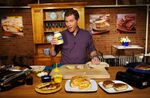 This week, the "Masters in Business" radio podcast features Bobby Flay, chef, restaurateur, cookbook author and star of the Food Network.
Flay dropped out of high school and started working in restaurants before being singled out by Broadway restaurateur Joe Allen, who sent him to the French Culinary Institute. He became the head chef of Miracle Grill, where he was one of the first to introduce Southwestern cuisine to New York. His first restaurant, Mesa, was a sensation, winning accolades and awards. Flay also is the star or host of more than a dozen shows on the Food Network and the author of 14 cookbooks, including "Bobby Flay's Bold American Food" and "Bobby Flay's Barbecue Addiction." 
Listen to the full podcast at Bloomberg, on Apple iTunes or SoundCloud. All of our earlier podcasts are now available on iTunes.
Next week, we speak with Rick Ferri, founder and managing partner of Portfolio Solutions.
This column does not necessarily reflect the opinion of Bloomberg View's editorial board or Bloomberg LP, its owners and investors.