Four Reasons Rand Paul's Speech Matters
The Kentucky senator won't win the Republican nomination. But the promises he makes will affect party positions.
by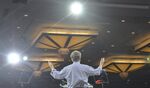 Rand Paul has been running for president for years. I don't consider him a viable candidate, because most people in the Republican Party who care about foreign policy consider him unacceptable. So why does his official announcement today that he is in the 2016 race matter?