Greece's Worst Option: IMF Default
Greece has to make a $500 million payment to the IMF by April 9. It is hard to imagine any outcome that would improve the country's lot.
by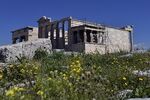 Finance Minister Yanis Varoufakis's surprise decision to meet with International Monetary Fund Managing Director Christine Lagarde in Washington on Sunday added to the suspense over whether Greece would make its April 9 debt payment to the fund.