Corker: 'Obama Doctrine' Means Abandoning Middle East
The Senate Foreign Relations Committee chairman wants to work with Obama. But can their worldviews mesh?
by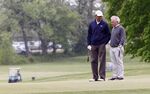 President Barack Obama finally got his framework nuclear deal with Iran, and now has to convince Congress to back off its demand for an up-or-down vote on the final package. Its going to be a tough sell: As of now, the chairman of the Senate Foreign Relations Committee doesn't even agree with Obama on what the deal will mean for the region and the world.