Government Spying Gets John Oliver Treatment
Comedian John Oliver made Americans care about net neutrality, though it's in doubt whether he can do the same for online privacy.
by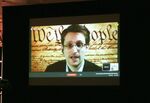 Government surveillance is probably among the hottest topics in technology and politics -- if you're involved in technology or politics. As for the rest of the U. S., Justin Bieber getting arrested is need-to-know news and the prospect of the National Security Agency spying on civilians for no good reason is sort of a snore. What? They spied on UNICEF? If UNICEF has nothing to hide, can I hear more about Teresa Giudice's life in prison? She had a secret cell phone. Now that's a hot covert operation.