Bitcoin and Market Crashes
Big market movements might be predictable after all.
by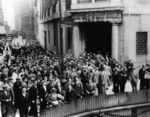 Predicting big market crashes is a difficult business, many would say impossible. If enough investors believe a cataclysm is coming, their selling will simply make it happen sooner -- a dynamic that would quickly render any convincing forecasting method obsolete.