Friday Food Post: Easter Eggs for Grown-Up Tastes
Here are some recipes, traditional and less so, for things you can do with all those Easter eggs your kids won't eat.
by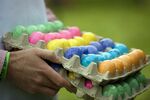 For this Friday's food column, we have an editor request: what the heck to do with all those leftover Easter eggs. This is a bit of a stumper. Not because I don't like hard-boiled eggs, but because ... don't you know what to do with them? You make deviled eggs. Or creamed eggs. Or egg salad.