Stingy Cubs Send Down Their Sensation
The Cubs sent down third baseman Kris Bryant to the minor leagues Monday, despite his leading the majors with a .425 batting average and nine home runs in 40 at-bats during spring training.
by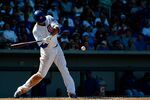 The perennially disappointing Chicago Cubs will show off their refurbished ballpark and talented young roster when they open the Major League Baseball season Sunday night. Yet they will be without their top prospect, intentionally, thanks to a major flaw in the collective bargaining agreement.
The Cubs sent down third baseman Kris Bryant to the minor leagues Monday, despite a .425 batting average and a league-leading nine home runs in 40 at-bats during spring training. He's driven in 15 runs and has an OPS of 1.642. Yet Bryant will spend at least the first 12 games of the season playing for Triple-A Iowa, not for any reason to do with his performance on the field, but because of quirky baseball economics. What's two weeks (at least) without potentially your best player compared with potentially saving millions of dollars down the road?
It's all due to the way "service time" is calculated. In MLB, rookies are placed under team control for a minimum of six years, starting the day they're called up to the majors. Usually, that means they'll make around the league minimum for the first three years, and will be eligible for arbitration for the final three years. But as FanGraphs notes, service time is not calculated in calendar years -- it's calculated in terms of days of major league service. A year of service time is equal to 172 days, and there are 183 days in the MLB calendar this season.
Because players are required to complete at least six full years before becoming free agents -- and because the CBA prevents players from being credited with more than one year (172 days) in a season -- a player who only accrues 171 days of service time in his rookie year will effectively be under team control for six more years, a total of seven seasons. Fangraphs's Dave Cameron calls this "The Myth of Six Years of Team Control," and it gives the Cubs and other teams an incentive to hold their top prospects in the minors at the beginning of their first season.
The issue is made worse by the so-called Super Two cutoff. Players are usually eligible for arbitration after three years of service, but there are certain conditions under which they may become eligible earlier. As Fangraphs explains, these players must meet the following criteria:
● If they have less than three years of service time, but more than two.

● If they rank within the top 22% of all 2-year players in terms of service time.

So if a player finishes a season and is just shy of three years of service time (say, 2 years and 171 days) then MLB will award them Super Two status and they'll be eligible for arbitration. Since these players are still under team control for another three seasons, that means Super Two players get four years of salary arbitration instead of the typical three.
So, if a club calls up a top prospect enough days into the season that he'll miss the Super Two cutoff, usually around June, the team will save a year of arbitration that would likely result in an incrementally higher salary.
Cubs owner Tom Ricketts and president of baseball operations Theo Epstein both insist that Bryant is being sent down to work on his defense. It's true that there are some holes in his game; he's been tested in the outfield after struggling a bit throwing from third, and his strikeout rate remains high. But everyone -- from Bryant's agent Scott Boras to the players' union to former star pitcher Curt Schilling -- knows the real reason is so the Cubs can get a discount for an extra year on a player they believe will be a superstar.
Schilling, now an ESPN analyst, challenged Epstein in the press box during a spring game on the Bryant decision. Epstein's answer was to list the many big-time Red Sox prospects while he was the general manager in Boston who didn't start the season in the majors. "It's not always the right time for them," Epstein said. "They need to complete their development." Schilling wasn't sold: "C'mon, the real explanation here is that it's a business decision, right?"
Epstein had a point. But in listing players such as Hanley Ramirez, Jacoby Ellsbury and Clay Buchholz -- not to mention Stephen Strasburg, Bryce Harper and Wil Myers, whose GMs also chose to keep them in the minors longer -- Epstein's simply calling attention to how many others have received the Bryant treatment, and calling into question the motivations for holding these players back. Nobody would begrudge a GM from taking the course of player development he sees fit for his prospect, but these decisions need to be made for baseball reasons alone, not financial ones.
Unfortunately, the conditions setting up these  manipulations are codified in the CBA, negotiated by MLB and a players' union that represents established players and not the prospects these provisions affect -- yet another reason minor leaguers need their own union. There are a few potential quick fixes: Fangraphs' Mike Petriello suggests changing the terms of service time from full MLB calendar years to some lower number of days -- say, 100. Until major changes are made to the service-time requirement in the CBA, teams will continue to toy with prospects' rookie seasons to fit their payroll concerns. 
This column does not necessarily reflect the opinion of Bloomberg View's editorial board or Bloomberg LP, its owners and investors.