The Incredible Shrinking EU Bank
Several recent European regulatory moves seem to be aimed at making it costlier for banks to expand.
by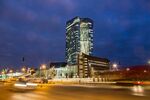 European regulators seem intent on making it harder for banks to fund themselves. The painful wind-down of Hypo Alpe Adria Bank in Austria shows government guarantees are no longer ironclad, the German government wants to make senior debt haircuts possible, and the European Central Bank is not disclosing the capital targets that it has set for financial institutions in its new role as their supervisor.