Let He Who Is Without Sin Refuse to Bake Cakes
Just in time for Easter and Passover, a passionate debate has ignited about whether people should have the freedom to disassociate themselves from those they believe to be acting sinfully.
by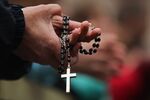 In churches this week, many Christians will mark Maundy Thursday by washing each other's feet, as Jesus did for his disciples at the Last Supper, including for those who would betray and deny him. Washing the feet of sinners, it seems, is all well and good. Just don't ask anyone to bake a cake for a gay wedding.