Indiana's Religious Conservatives Surrender
Do Indiana conservatives want protection for their religious faith or their cultural predilections?
by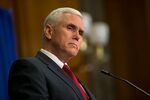 That was quick. Indiana legislators appear to be caving to pressure from businesses (and just about everyone else), and are preparing a "fix" to their religious-liberty law that will prohibit discrimination against gays and lesbians.