Modi Needs a Farm Fix
Half the population is being left behind.
by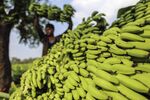 Optimists are in the ascendant in India, where Prime Minister Narendra Modi's reform efforts have spurred predictions of 7.5 percent growth this year -- higher even than China. By contrast, the country's most eminent agricultural economist recently warned that growth in the farming sector was likely to flatline. That may not cripple the larger economy, since agriculture now accounts for only 15 percent of India's GDP. But it's catastrophic for the one in two Indians who depend on farming for a living.