Greece's Syriza Confronts Reality
The Greek government's full reform plan looks nothing like its election promises.
by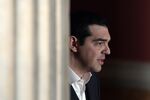 Reality does depressing things to dreams. It kills them off quickly and mercilessly, and because people have short memories and dreams are short-lived, we often forget what they were like when they began. This is why it's worthwhile to compare Greece's first "full summary" of reforms, released today, to be undertaken so the country can unlock financing from international creditors, with the election program that the ruling Syriza party announced last September.