Editorial Board
A Promising Iran Agreement
The scope and strength of the tentative deal with Iran are promising.
by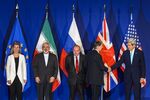 Whether by choice or circumstance, the agreement to come to an agreement to limit Iran's nuclear program followed one of the oldest rules in the diplomatic playbook: Set expectations low, then exceed them. Even a few hours before representatives from the U.S., the European Union and Iran took to the podium Thursday in Switzerland, the betting was that only a vague plan to keep talking was in the offing.
Instead, what emerged was a wide-ranging set of parameters for limiting Iran's nuclear program with quantifiable targets and guidelines for verification and sanctions relief.
QuickTake Iran's Nuclear Program
It's important to keep three things in mind before assessing what U.S. President Barack Obama touted as "a historic understanding with Iran": First, it is not just between the U.S. and Iran, but also with the other four permanent members of the United Nations Security Council and Germany. Second, it is not a done deal, as its diplomatese title ("Parameters for a Joint Comprehensive Plan of Action Regarding the Islamic Republic of Iran's Nuclear Program") indicates. Third, as such, it contains many ifs and to-be-determineds -- on the pace of sanctions relief, on the extent of an investigation of the possible military dimensions of Iran's nuclear program, and so on.
All that said, the framework's scope and strength are promising. Congress should refrain from passing any legislation that would impose additional sanctions and mandates on the talks, or otherwise seek to tie the president's hands.
For many critics of the negotiations with Iran in the U.S. Congress -- not to mention Israeli Prime Minister Benjamin Netanyahu -- the bottom line remains the elimination of Iran's uranium enrichment capability. Yet a dozen years of diplomacy and progressively stiffer sanctions have failed to produce that outcome, which even a costly and bloody military action could not guarantee.
On paper, at least, this framework significantly reduces the risk of Iran covertly acquiring a nuclear weapon. It drastically reduces the number of Iran's centrifuges and the size of its uranium stockpile, dismantles or repurposes some of its most problematic nuclear facilities, places limits on its development of nuclear technology, and imposes a regime of surveillance and inspections that in some cases will continue for 25 years.
The net effect of these provisions, Obama says, would be to prolong Iran's "breakout" -- the amount of time it takes to acquire enough fissile material for a nuclear weapon -- to more than a year, from the current two to three months.
Of course, such tidy assessments gloss over the multitude of prickly details that still need to be worked out over the next 90 days. (The interim agreement freezing Iran's nuclear program expires on June 30.) What, for instance, is the timeline for Iran's dismantlement of parts of its nuclear infrastructure? When and how exactly will sanctions relief proceed? What provisions ensure that sanctions can "snap back" into place -- the administration's phrase of choice -- should Iran renege on its commitments?
Those are exactly the kinds of questions that Congress can help to answer through hearings and consultations, as well as resolutions of support or disapproval. Members of Congress have every right -- in fact, an obligation -- to point out any flaws they see in this tentative agreement. They also have a responsibility to present a realistic alternative that, for an equal or lesser price, would accomplish the same goals.
--Editors: James Gibney, Michael Newman.
To contact the senior editor responsible for Bloomberg View's editorials: David Shipley at davidshipley@bloomberg.net.
Before it's here, it's on the Bloomberg Terminal.
LEARN MORE