China Isn't Ready for Creative Destruction
China's system of moral hazard won't be worth much until it passes far more ambitious financial reforms.
by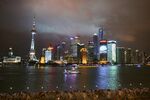 Has China's Joseph Schumpeter moment arrived? China has suggested its decision to roll out deposit insurance for bank accounts beginning on May 1 will usher in a wave of creative destruction, chastening the cronyism that plagues the country. And there is some logic to the official spin. There's a flip side, after all, to Beijing's declaration that normal consumers will be kept safe in a period of market turmoil -- namely, the banks themselves could be permitted to go bust.