Jeb Bush, the Fresh Face of 2016
Voters have decided they don't much like Jeb Bush. Let's see what happens when they actually find out who he is.
by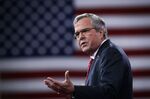 It's going to take a lot of money to convince Republican voters that they don't know Jeb Bush. The notion that Bush is a tired old warhorse, familiar to all and distasteful to many, is the flip side of his singular political advantage in the Republican field -- the family connections, the vast and hyper-wealthy donor network, the ready access to political and policy expertise.