Congratulations, China: You Won a Rhodes
Rhodes wanted to lessen hostility between Britain and a rising world power, Germany. Same idea with the West and China today.
by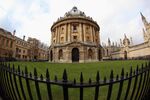 Expanding the Rhodes scholarships to China is a great idea -- and not because China under President Xi Jinping is on its way to becoming a constitutional democracy. Since Cecil Rhodes created the scholarship (of which I was a recipient) in his will, its grand aspiration -- which some might find overblown -- has always been to reconcile countries that might otherwise be in conflict.
Case in point: Britain and Germany. Although it's little remembered today, the Rhodes bequest originally provided for the election of German scholars, who were chosen from 1903 to 1914, again from 1929 to 1939, and from 1970 until now. Like other careful political observers of the time, Rhodes understood that Germany was a rising power poised to threaten Britain for European and global dominance.
One of Rhodes' goals in creating the scholarship was to create commonality among English-speaking people, which is why he provided for scholarships from the countries of English Commonwealth and the U.S. But a comparably important purpose was to lessen hostility between Britain and Germany. German scholars, it was hoped, would develop an affinity for Britain during their studies in Oxford, and bring back pro-British sentiment to leadership positions in Germany.
It worked -- sort of. One German Rhodes scholar, Adam von Trott su Solz, went on to become a top German diplomat. He chose to become a member of the Nazi party, but maintained anti-Nazi activities at the same time. Trott was part of a group of conservative, aristocratic Germans who opposed Adolf Hitler partly on the grounds that he was destroying the country. Trott ultimately was executed for his role in the Valkyrie plot to assassinate Hitler. Another aristocratic German Rhodes scholar who joined the foreign service, Albert Graf von Bernstorff, became a leader of the German anti-Nazi opposition. He was betrayed to the authorities and executed in 1945.
What does this history mean for the expansion of scholarships to China? On one hand, it gives China some high-profile recognition that it's a country of great global importance. The message is that if the Rhodes wants to help train global leaders, it would be well-advised for some of them to come from such a fast-growing power.
On the other hand, the scholarship is also implicitly saying to China that if it wants this recognition there are some conditions attached. At a minimum, the Rhodes Trust, based in Oxford, will have to believe that the selection committee operating in China is free to choose scholars without regard for their political beliefs or family connections. Some might be members of the Communist Party, which wouldn't be held against individual applicants. But some might not belong to the party -- and some might express skepticism of some of Beijing's decision-making, or indeed might oppose party rule altogether.
If the Rhodes Trust were to believe that the selection process was biased or was being controlled by political considerations, it would certainly stop awarding the scholarships. This would be just as embarrassing for China as the selection of China as a venue is now for the country's leadership. Neither decision is going to play a critical role in the nation's future. But the symbolic importance is significant.
There's another important lesson from the example of the German Rhodes scholarships: that they were stopped when Britain and Germany went to war. Today, China is challenging the status quo power of the U.S. Their Cool War isn't likely to explode into direct violent confrontation in the near future, or at least everyone hopes it won't.
Nevertheless, we need every tool available to us, including the tools of culture, to facilitate mutual understanding between China and the West to help avoid descent into violence. Ping-pong diplomacy isn't enough. Chinese and Western elites often understand each other very poorly, which poses one of the greatest risks to conflict.
Chinese Rhodes scholars would be at the vanguard of improving mutual comprehension. That doesn't mean they need to dress in British tweeds or become Anglophiles. It means they need to be able to explain the West to China, and vice versa.
Finally, in a small way, the Rhodes might help advance the idea of nonpolitical merit in China. In its own way, China is a meritocracy not unlike the U.S. But even more so than America, it has a class of princely children or grandchildren of high-ranking officials who also comprise a distinctive part of the elite.
The ethos of the Rhodes scholarship today rejects inherited privilege. Selection committees wouldn't hold it against a candidate if he or she was descended from a prominent family. But the ideal Rhodes scholar remains someone like Bill Clinton, a poor boy from a broken family in semi-rural Arkansas who somehow invented himself as an extraordinarily charismatic and intelligent public activist.
If the Rhodes scholarship can help advance the careers of a small group of self-made Chinese students, who might in turn help improve understanding between China and the West, it'll be a small but meaningful contribution to solving the problems of the Cool War. If the experiment fails, it can always be stopped.
This column does not necessarily reflect the opinion of Bloomberg View's editorial board or Bloomberg LP, its owners and investors.
To contact the author on this story:
Noah Feldman at nfeldman7@bloomberg.net
To contact the editor on this story:
Tobin Harshaw at tharshaw@bloomberg.net
Before it's here, it's on the Bloomberg Terminal.
LEARN MORE