Editorial Board
A Win for Democracy in Nigeria
With President Goodluck Jonathan's loss in Nigeria, Africa's would-be autocrats get a wake-up call.
by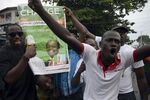 Nothing invigorates democracy more than an incumbent's defeat. In that and other respects, challenger Muhammadu Buhari's win over President Goodluck Jonathan represents a potentially transformative moment for Nigeria -- a victory by the opposition in Africa's biggest economy. It may begin Nigeria's first peaceful transition of power between political parties since independence from the U.K. in 1960.
The aftermath of Nigeria's last presidential election, also between Buhari and Jonathan, was marred by violence that tapped divisions between north and south and Christians and Muslims. Thankfully, this time, President Jonathan has already called Buhari to congratulate him. That said, the first task facing Buhari, a former Muslim general from the north who had taken power after a military coup in the 1980s, will be to persuade Jonathan's supporters that his campaign pledges to fight corruption and crime and restore growth are not a cover for settling old scores. One of Buhari's former critics, the writer Wole Soyinka, believes Buhari when he says that he has shed his authoritarian past and become a "born again" democrat. Let's hope they're both right.
Buhari also faces the formidable challenge of winning Nigeria's six-year-old war against Boko Haram, which has played on northern grievances to advance its own murderous ends. That goal will depend, in turn, on Buhari's fight against corruption, which has hollowed out Nigeria's military even as it has sapped the economy and eroded public trust in government.
So far, Buhari has provided few details on his ambitious promises to jump-start the economy and create at least 1 million jobs a year, and his economic team remains unclear. Yet markets have welcomed his election after Jonathan's lackluster administration, which has presided in recent years over falling growth, a shrinking currency and rising rates of poverty and inequality.
No one should underestimate the magnitude of the challenges that lie ahead for Africa's newest freely elected leader. Still, in a year that will see more than a half-dozen presidential contests across the continent, Buhari's victory over an entrenched incumbent should be not only a rebuff to would-be autocrats, but an inspiration to voters who seek to unseat them.     
To contact the senior editor responsible for Bloomberg View's editorials: David Shipley at davidshipley@bloomberg.net .
Before it's here, it's on the Bloomberg Terminal.
LEARN MORE