U.K.'s Miliband Is Half Right on Europe
Ed Miliband, the left-leaning leader of the U.K.'s opposition Labour Party, wooed business at his formal campaign launch for elections on May 7 -- by pledging to keep the UK in the EU. That's counterintuitive, but smart.
by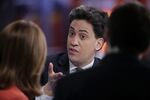 Ed Miliband, leader of the U.K.'s left-of-center Labour Party, chose to give the opening speech of his formal campaign for the May 7 election to businesspeople at Bloomberg's London headquarters this morning. That suggests he knows his weakness: Fewer than 10 percent of business leaders think a Labour-led government would be good for them, and few voters trust Labour to run the economy.