view
Root for StubHub
Ticketmaster is out to push aside its big resale competitor, with help from sports teams.
by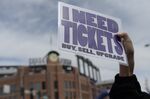 StubHub was founded in 2000 by a couple of Stanford business-school students who believed the business of ticket resale was "ripe for change," as one of them put it later. Ticket scalping was banned in some states and had a poor reputation just about everywhere. Just the word "scalping" was bad enough. Eric Baker and Jeff Fluhr thought an online marketplace where prices were transparent, ticket-holders themselves sold their tickets and nobody called it scalping would be perceived differently.
They were right, and remarkably few obstacles were thrown in StubHub's way as it -- along with eBay, its main competitor in the early days -- transformed the secondary market for event tickets. Recalled Fluhr in Fortune magazine in 2012:
Ten or 15 states had laws that restricted the amount you could charge to resell a ticket, either citing a fixed dollar amount over face value or a cap on the percentage over face value. We got letters from a few state attorneys general implying that we might not be in compliance. We argued that we weren't the sellers of the tickets, the users were. No attorney general ever filed a claim against the company. We actually hired some lobbyists and were successful in changing the laws in states like New York, Florida, and Pennsylvania.
There was also a lot of wrangling with Ticketmaster, the country's leading primary ticket seller, "which didn't like us or our business model," Fluhr said. But it never really hampered StubHub's rise. Before Fluhr sold StubHub to eBay in 2007 and left the company (Baker was already gone), the one major legal battle it faced was with the New England Patriots, which sued StubHub in 2006 for encouraging fans to flout the team's ban on reselling tickets for a profit. The team and the company settled in 2009 without really resolving anything -- the Patriots affirmed their right to revoke the season tickets of fans who resold for a profit on StubHub and even go after them in court, while StubHub affirmed its right to keep hosting the ticket sales.
That's where things have stood since. StubHub is the official ticket reseller for Major League Baseball, but with other sports leagues its status is informal. And as Ticketmaster has worked to build its own ticket-resale business -- it has league-wide deals with the National Basketball Association, National Football League and National Hockey League -- the two have come into increasing conflict. That conflict led Monday to another lawsuit. Only this time it's StubHub suing Ticketmaster, along with the Golden State Warriors, in U.S. District Court in San Francisco for pressuring ticket holders to use Ticketmaster's resale service instead of StubHub's.
According to StubHub's complaint, the Warriors and Ticketmaster have "begun monitoring season ticket holders' resales and cancelling season ticket subscriptions for those ticket holders that have used competing Secondary Ticket Exchanges."  They've essentially adopted the same rule the New England Patriots have had for years, but with new ticket technologies (barcodes and paperless tickets) that make it much easier to enforce. As a result, the number of Warriors tickets listed on StubHub is down 80 percent from last season.
StubHub worries that this practice will soon spread to other teams, and says it is is a violation of the federal Sherman Antitrust Act and its California cousin the Carlyle Act. Ticketmaster clearly has a monopoly on primary ticket sales for most major sports leagues, and is definitely making use of that monopoly to gain share in the secondary ticket market, so there's something to that charge. But sports teams would also seem to have the right to restrict ticket resales as they see fit.
I'm not going to try to predict the outcome of a court case, but I am allowed to root for a winner. StubHub created something in 2000 that was so useful and successful that it convinced most sports teams that letting people resell tickets they couldn't use wasn't a terrible thing. Now those teams and Ticketmaster want to own that business and push StubHub out of it. I don't think anybody other than Ticketmaster and the team owners will be better off if they succeed.
To contact the author on this story:
Justin Fox at justinfox@bloomberg.net
To contact the editor on this story:
James Greiff at jgreiff@bloomberg.net
Before it's here, it's on the Bloomberg Terminal.
LEARN MORE