March Madness and the Perils of Predicting
The national collegiate basketball championship offers lessons on forecasting, probability and mean reversion.
by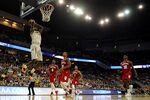 We're down to the Final Four in this year's iteration of March Madness, also known as the national collegiate basketball tournament. Our earlier discussion of "The March Madness Theory of Investing" didn't sit well with some readers. The lessons we sussed out from the bracket-destroying results included home-country bias, how expert forecasts are about as good as those of nonexperts, and the impact of noise and distraction.