Latin America Gathers to Gripe About U.S.
What's going to happen in Panama City? And will it matter?
by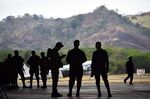 Journalists are being silenced in Mexico, Venezuela and Ecuador. Corruption has seeped into the highest offices in Argentina, Brazil and Chile. Thanks to gerrymandering, elections are the Latin autocrats'  to lose, and simply standing up to Venezuelan strongman Nicolas Maduro can earn you a go-to-jail card or worse.
So when leaders of the 35 nations of the Western Hemisphere gather in Panama City for the seventh Summit of the Americas on April 10 and 11, they will have plenty to talk about. Whether Luis Almagro, the new secretary general of the parley's sponsor, the Organization of the American States, can turn the talk to the region's real problems is doubtful.
Latin leaders often disagree, but the one axis of indignation is their resentment of the U.S.
That's fueled partially by a Latin article of faith: Amigos don't criticize amigos. "The United States doesn't understand that no country has the right to certify the conduct of any other," said Ernesto Samper, general secretary of the Union of South American Nations, one of the many competing regional compacts that exclude the U.S. and Canada.
Such deference may be the Latin version of mutual assured destruction. "No one wants to antagonize neighbors whose support he may one day need," Diego Arria, a former Venezuelan ambassador to the United Nations, told me.
Three months ago, U.S. President Barack Obama shook that cozy consensus by announcing rapprochement with Cuba. That was long overdue but also shrewd diplomacy, for Cuba's absence from the hemispheric table and the half-century U.S. embargo on the island had been twin sticks for Latin leaders out to thrash the yanquis and deflect attention from the mess at home.
Yet, by announcing sanctions on March 9 against seven high-profile Venezuelans, Obama may have sabotaged his own game. Maduro got a free sympathy bump, and tender talks between Cuba and the U.S. over normalizing relations were abruptly suspended.
Latin Americans' rancor toward the U.S. undercuts the OAS's boldest document, which holds that "the peoples of the Americas have a right to democracy, and their governments have an obligation to promote and defend it." 
Drafted in 2001, the charter was meant to breathe new life into an organization  seen, rightly for a time, as Washington's mouthpiece. Hugo Chavez came along in 1999 and started his so-called Bolivarian alliance, powered by petrodollars, anti-yanqui bombast and a caudillo's interpretation of democracy and the rule of law.
To the Bolivarians, ballots were a blank check: Once elected, leaders were cleared to stack courts, muzzle dissent and rewrite the constitution. The sole reason to invoke the charter was an outright coup d'etat. So it was in 2009, when Honduran leader Manuel Zelaya, a Chavez ally, was ousted at rifle point on orders from the Supreme Court and packed off in his pajamas to Costa Rica.
But what of Venezuela, where the Maduro government has crushed street protestors and jailed political opponents such as Caracas mayor Antonio Ledezma, snatched from his desk last month by intelligence police? "That was nothing if not a sub-national coup d'etat," said Eric Farnsworth, vice president of the Council of the Americas.
The Summit also isn't helped by the fact that the OAS has been shrink-wrapped into innocuousness. Once touted as the most important forum in the Americas, the 67-year-old compact has become a continental wind chamber, howling over Cold War-vintage outrages even as the group bleeds allegiance and credibility.
The oldest and largest diplomatic body in the Americas -- stretching from the Arctic Circle to Patagonia -- is a house divided and pauperized. Brazil, a charter member, owes $8.1 million in back dues and pulled its ambassador in 2011. Venezuela hasn't paid up in two years and renounced the group's American Convention on Human Rights in 2012. "The OAS has lost its meaning," Guillermo Cochez, Panama's former ambassador to the group, told me. "If it cannot show its relevance, it might as well shut down."
In his 10-year mandate, outgoing secretary general Jose Miguel Insulza was unable to halt the decline. Whether Almagro will fare any better is unclear. A career diplomat who served as Uruguay's ambassador to China and then as its foreign minister, he's had a distinguished foreign service career, but that might not be enough. "Almagro is a smart man and a cautious one," said former Mexican diplomat Jorge Guajardo, who also served in Beijing. "The OAS needs a bold man." 
This column does not necessarily reflect the opinion of Bloomberg View's editorial board or Bloomberg LP, its owners and investors.