Wages Will Dominate Big Week for U.S. Data
In the U.S., economists don't agree on the extent to which a continued cyclical recovery can overcome structural headwinds. Few, if any, have offered a decisive solution to the unusually large gap between strong jobs creation and sluggish wage growth.
by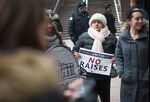 This week's heavy load of economic data releases from the U.S. (and, to a lesser extent, China and the euro area) comes at a particularly opportune moment. Views about the prospects for the U.S. economy are all over the map. There also is significant divergence in the assessments of the effects of a probable increase in interest rates this year by the Federal Reserve. And there is an even greater diversity of opinion about whether the U.S. will help pull the rest of the world out of the doldrums or, instead, be dragged down.