China's Leap Forward in Digital Medicine
Nontraditional challengers and weak incumbents could mean rapid change in Chinese health care.
by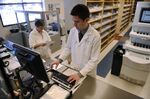 You might have thought that the rise of digital technology would have transformed health care by now. Not quite. Consider electronic medical records, a seemingly obvious step toward keeping better track of and sharing patient histories. In the U.S., EMRs are still seen by many doctors as a bust. Different record-keeping systems are incompatible with one another. Digital records fail to surface important information. As Robert M. Wachter reported in a recent New York Times op-ed:
Last year, I saw an ad recruiting physicians to a Phoenix-area hospital. It promoted state-of-the-art operating rooms, dazzling radiology equipment and a lovely suburban location. But only one line was printed in bold: "No E.M.R."
Wachter is a professor of medicine at the University of California-San Francisco, and the author of a new book on digital medicine. He's convinced that health-care eventually will be transformed for the better by digital technology, but that it's going to take a long time for doctors, hospitals, insurers and the rest of the health-care system to reorganize in ways that take full advantage of the promise of digital.
It's another example of the old story, told by economic historian Paul David in his famous 1990 paper on "The Dynamo and the Computer," in which the productivity gains from new technologies show up long after the technologies do. With electricity, David wrote, manufacturers had to abandon their old multistory factories and built new single-story facilities designed around the new power source before major productivity improvements came. With computers, we are still figuring out the sort of organizational changes needed to take full advantage of their capabilities.
In medicine the transition is likely to be especially slow, given all the regulatory, licensing and other restrictions that may serve some useful purpose but definitely have the side-effect of slowing innovation and keeping outside competitors at bay. One telling factoid: there is no overlap between the top EMR providers in the U.S. and the top sellers of customer-relationship management software, EMR's far more successful non-medical counterpart.
There is however, another giant economy where the balance of existing health-care infrastructure and future potential looks very different. As a result, it may be there, in China, that many of the digital innovations that eventually transform health-care everywhere will first take hold. To understand why, consider three big forces shaping health care in China right now:
The country has just undergone a huge transformation in how it pays for health care. About 95 percent of the population now has health insurance, up from 30 percent in 2003.
There aren't enough doctors and nurses to deliver the promised medical coverage. Medical professionals are both hugely overworked and widely resented.
The country's consumer Internet companies -- Alibaba, Tencent, Baidu and more-specialized competitors -- see this gap between promised health-care coverage and ability to deliver as a huge opportunity, and the Chinese government appears to be encouraging them to rush in.
One big change that is supposed to come soon is online prescription-drug sales. As Bloomberg News reported Sunday:
The shift could gradually reshape the country's $149 billion market for such drugs, by moving sales to web retailers and away from hospitals, which sell almost three quarters of medicines prescribed in the country.
Alibaba's Tmall shopping site is likely to be one of the big sellers of prescriptions, Alibaba Health  recently launched a mobile app that lets users upload prescriptions and search nearby pharmacies for the best deal, and Alibaba's mobile-shopping and payment apps have since last summer been able to scan drug labels to identify counterfeits. Patients can also use Alibaba's payments service, Alipay, to book and pay for doctor's appointments. Tencent has its own doctor's appointment system using mobile chat service WeChat and payments service WePay, and recently invested in a health portal for consumers and an online service for health-care professionals. Beijing's municipal government is using Baidu's "health cloud" service for illness prevention and "pre-diagnosis assessments."
Most of these examples were passed on to me by Yonatan Adiri, the founder and chief executive officer of an Israeli medical-technology startup, Healthy.io, who is positively gushy about the opportunities and speed of change in Chinese health care. Adiri, who was chief technology officer for former Israeli President Shimon Peres, sees the mix of overwhelmed incumbents, well-financed non-traditional players and government encouragement as creating a huge opportunity for change and innovation. "There's a big story unfolding," he says.
It doesn't have to be a story with a happy ending, of course.  But from the perspective of the U.S., with a health-care system that is much better than China's but possibly much more resistant to change, it will be highly educational to watch it unfold.
This column does not necessarily reflect the opinion of Bloomberg View's editorial board or Bloomberg LP, its owners and investors.