The Republican Right Hasn't Gone Away
Conservatives are already eyeing a fight over the debt ceiling this autumn, when they believe they'll have more leverage.
by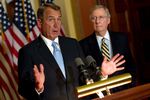 In November, the Republican narrative was that the Tea Party movement was in decline, which would make it easier for congressional Republican leaders. The message was repeated last week as the Republican majorities in the House and Senate passed budgets.