Putin's Economic Team Plays Houdini
Russia's international reserves are no longer shrinking: It's time to admit the Russian economy won't fall apart anytime soon.
by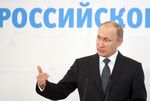 Last week, the Russian central bank's currency reserves increased for the first time since last July, showing that the economy may have moved past the panic caused by last year's oil price slump. Perhaps Russia's improving indicators will convince Western governments that economic sanctions are having no discernible effect and that President Vladimir Putin's regime and the country it runs aren't facing imminent collapse.