Strong Dollar, Weakened World
Emerging markets have borrowed a lot in dollars. Now those debts are getting harder to pay back.
by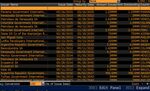 Back when the U.S. Federal Reserve was doing whatever it could to keep credit flowing, companies and governments in emerging markets went on a borrowing spree in dollars. Now, with the Fed changing course and the U.S. currency rising, all that dollar-denominated debt is becoming one of the weakest links in the global financial system.