Bergdahl's Defense Is He Was Planning to Come Back
His lawyer says he was only AWOL, not a deserter.
by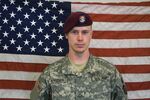 Former Taliban prisoner and U.S. Army Sergeant Bowe Bergdahl told military investigators that he left his base in June 2009 to report on misconduct in his unit and always intended to come right back. That will also be his defense if and when he faces a court-martial for desertion, according to his lawyer.