Ellen Pao Lost, Women Didn't
The jury rejected her claims, but Ellen Pao still managed to break the dome of silence that encases the tech industry.
by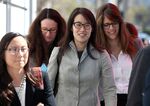 The defeat of Ellen Pao's gender discrimination case against Kleiner Perkins Caufield & Byers is already being interpreted as a loss for women in tech.
This idea quickly became a meme on Twitter, bolstered by the jury's finding that Kleiner Perkins wasn't guilty.
Its proponents also point to the fact that Pao's personal life and professional competence were picked apart in court, exposing her to scrutiny that will live forever. (The Internet never forgets.)
It's not true. The jury's verdict isn't a loss for women or even for women in tech.
A little more than a year ago, a series of sexist incidents and allegations of harassment and discrimination started to emerge from tech companies. Yet those cases never managed to break the dome of silence that encases the industry. 
Does anyone remember, for example, that the venture capital firm CMEA was the target of a sexual harassment lawsuit? Three executive assistants sued the company and a former partner for harassment and retaliation.
Does anyone remember that Julie Ann Horvath quit the hot startup GitHub and subsequently claimed that she'd been subjected to harassment and other inappropriate behavior?
Does anyone recall that RadiumOne's chief executive, Gurbaksh Chahal, accepted a plea bargain on battery and domestic violence charges? He was fired, but the board initially wanted to keep him on.
Or what about the e-mails between Snapchat's chief executive Evan Spiegel and his fraternity brothers that were leaked? (I can't even quote them without violating Bloomberg decency policies.)
Remember when Whitney Wolfe sued the dating app maker Tinder and its parent company, IAC, claiming that a colleague had sexually harassed her. What about the Yahoo executive who was accused of sexual harassment?
These are just the cases that I can think of off the top of my head. Throughout 2014, the evidence of hostile environments for women in tech came to light with depressing regularity.
But if you don't remember these cases, it's in part because they lived and died in tech industry blogs. Most of the legal actions were settled. The crassness was brushed aside and it was the big venture funding rounds that got the headlines. And nothing really changed.
Until Ellen Pao's case. She didn't settle with Kleiner, and her high-profile fight made the leap from industry dust-up to big news. A jury of six men and six women listened to and weighed four weeks of testimony in a case that attracted more attention as it ground on.
What began as something that women whispered about behind closed doors became part of a national conversation. Gender discrimination suits were filed against Facebook and Twitter while the Pao case was going on. The courtroom was packed during closing arguments. And prominent women, including former Yahoo Chief Executive Officer Sue Decker, have publicly talked about their own experiences with discrimination.
Pao lost the most important claim in her case -- that she was discriminated against because she's a woman. Kleiner Perkins won. The verdict will allow the firm to begin rebuilding its reputation among its universe of investors and entrepreneurs.
But beyond the immediate winners and losers in the lawsuit, the scorecard isn't so obvious. The case broke wide open the issue of sexism in a powerful, influential industry. And as I wrote this column, a louder group of voices has emerged on Twitter, tagging their tweets with #thankyouellenpao.
To contact the author on this story:
Katie Benner at
To contact the editor on this story:
Max Berley at mberley@bloomberg.net
Before it's here, it's on the Bloomberg Terminal.
LEARN MORE