Women on the Court Need More Women on the Bench
Title IX was great for female athletes, terrible for women coaches.
by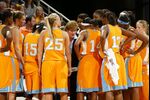 College basketball's March Madness resumes Thursday evening, and while the men certainly dominate air and the back page, the women have a pretty great tournament going on, too. The one thing both these groups of athletes have in common? They probably don't play under a female coach.