Black Swimmers Sweep Away a Stereotype
A sport dominated by white athletes got a dose of diversity.
by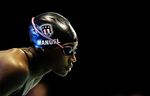 Three college athletes made history this weekend when they became the first African-Americans to sweep a swimming event at the NCAA Women's Division I Championship. 
Stanford's Simone Manuel and Lia Neal took first and second, respectively, in the 100-yard freestyle, while the University of Florida's Natalie Hinds took third. Manuel, a freshman, set the American and NCAA championship records with a time of 46.09.
Manuel and Neal, an Olympic bronze medalist from the London 2012 games, also placed first as part of the 400-yard free relay team for Stanford. Manuel anchored and set an American and NCAA record with a time of 45.79 for the leg.
None of the three women were thinking about the historical nature of their feat, but observers almost immediately recognized the significance of the moment. Swimming is a sport dominated by white athletes, with a diversity problem bolstered by antiquated notions about black bodies. The idea that black people are in some way physically incapable of being good swimmers --  perhaps "because they don't have the buoyancy," as former Los Angeles Dodgers Vice President Al Campanis famously said -- has persisted in the minds of many Americans.
But like baseball and hockey, the dearth of black swimmers is rooted in the country's history of  discrimination. As Grist's Brentin Mock details, housing segregation blocked blacks from having access to public pools, which were mostly located in white neighborhoods. White homeowners limited minorities' access to beaches and lakes out of fear they would hurt property values, driving black children to unsafe bodies of water and often resulting in drownings. Suburban country clubs, still the common starting place for elite swimmers, remain economically out of reach for most black families.
The result: According to a study by the USA Swimming Foundation, 70 percent of black children don't know how to swim. African-Americans aged 5 to 14 years old drown at three times the rate of white kids. Contrary to what the CDC posits, however, this disparity can't simply be attributed to the "lack of desire to learn how to swim."
Pioneers such as Manuel, Neal, Hinds and male Olympic gold medalist Cullen Jones help to dispel those ideas that black people aren't suited for swimming. They will help inspire the next generation of successful black swimmers who increasingly realize that the water can be a path to a college scholarship and further greatness.
"In a culture that still believes that swimming is something 'We don't do,' this shows the perseverance and dedication that these ladies have put forth to all be on the podium," Cullen told USA Swimming. "My hope is that this starts to change our culture's perception and is only the beginning."
With the FINA World Championships this summer and the Summer Olympics next year, there's more to come from Manuel, Neal and Hinds, who show that given proper access and training, the possibilities for blacks in the pool are endless.
This column does not necessarily reflect the opinion of Bloomberg View's editorial board or Bloomberg LP, its owners and investors.
(Corrects source of survey cited in sixth paragraph.)
To contact the author on this story:
Kavitha A. Davidson at kdavidson19@bloomberg.net
To contact the editor on this story:
Tobin Harshaw at tharshaw@bloomberg.net
Before it's here, it's on the Bloomberg Terminal.
LEARN MORE