Jets and Patriots Tamper With NFL's Dumbest Rule
Dueling accusations show how bad the prohibitions on free-agent cheating have become.
by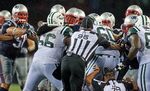 In the latest installment of mutual hair-pulling between the New York Jets and the New England Patriots, the Jets have filed tampering charges against Patriots owner Robert Kraft for comments he made about Darrelle Revis. If anything, let's hope this petty back-and-forth exposes the tampering rule's utter frivolity once and for all.