view
Buffett Goes Global With Velveeta
Kraft products may strike a nostalgic chord with Americans raised on crunchy peanut butter; I'm far from convinced the rest of the world has any appetite for A1 sauce.
by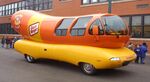 A graphic buried on page 29 of a 32-page investor presentation explains why Warren Buffett is folding Kraft Foods Group into the loving embrace of H.J. Heinz. Spoiler alert: Turns out, Kraft is (somewhat schizophrenically) one of the world's best-known food brands while also one of the world's most parochial companies.
As the pie charts show, Kraft earns just 2 percent of its $18 billion of annual revenue from selling Philadelphia cream cheese, Grey Poupon mustard and Planters peanuts in overseas markets. It makes the rest of its sales exclusively in North America:

Heinz, by contrast, gets 61 percent of its $10 billion of revenue outside North America, with emerging-markets sales contributing 25 percent, up from just 9 percent in 2005. So the combined company will seek an "international expansion of Kraft brands through the Heinz platform," according to the presentation. Somehow, the presentation says, strapping the two foodmakers together will produce a new global food behemoth with an extra $1 billion of sales on some unspecified timescale.
Good luck with that. I live in London. I've seen Velveeta on trips to the U.S. But I've never actually tasted it and, frankly, hope I never have to. The same goes for Kool-Aid, Jell-O, Miracle Whip and Lunchables (whatever they are, they sound kind of scary). And no matter how artful the website presentation is, I have no intention of gratifying my savory cravings with what Kraft's Oscar Mayer brand claims is bacon but looks like a brown version of Soylent Green.
Much of Kraft's range, in fact, looks like the kind of brightly colored, over-engineered, not-quite-food that's increasingly out of fashion as families try to eat healthier. Its products may still strike a nostalgic chord of comforting familiarity with Americans raised on its salted  peanuts or macaroni with neon-orange powdered cheese. I'm far from convinced the rest of the world has any appetite for A1 sauce.
To contact the author on this story:
Mark Gilbert at magilbert@bloomberg.net
To contact the editor on this story:
Paula Dwyer at pdwyer11@bloomberg.net
Before it's here, it's on the Bloomberg Terminal.
LEARN MORE