Concussion Timeout Leaves NFL Players Woozy
Having a trainer in the booth helps, but the onus is still on players.
by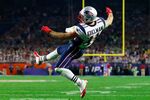 The NFL is revising the questionable concussion protocol that allowed New England Patriots receiver Julian Edelman to remain in the Super Bowl after a hit that left him wobbling. Unfortunately but not surprisingly, the approved proposal likely wouldn't have actually kept Edelman off the field.