Unions Are Powerless. Workers Aren't.
Don't get your hopes up that trade unionism can be resurrected in the U.S.
by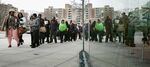 The long-simmering dispute between West Coast port owners and the International Longshore and Warehouse Union had already been settled, but everywhere I went at the International Home and Housewares Show, people were still talking about it. The standoff left ships sitting offshore, unable to unload their cargo, and snarled everyone's supply chains into the kind of knot that you have to spend weeks in the basement untangling. Product launches were being delayed, and retailers were making nervous noises about empty shelves.