Editorial Board
Everyone Can Win the Military Budget Debate
The Republican Party is actually in a position to set some budget priorities for the Pentagon -- if only its members can agree on what they are.
by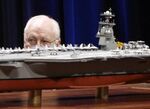 Like all debates based on congressional budgets, last week's argument over military spending was mostly symbolic. At the same time, this wasn't just the usual Republican infighting over dismantling Obamacare or paying the government's bills. The party is actually in a position to set some budget priorities for the Pentagon -- if only its members can agree on what they are.
First, to dispense with the (maybe not so?) obvious: Cutting the growth of military spending, a vital objective, can't really be done in short-term budgeting. Multibillion-dollar acquisitions such as the F-35 fighter jet involve countless contracts, often involving foreign militaries, and thousands of U.S. jobs that members of Congress won't give up without a fight. Changing force structures, closing redundant bases and cutting back on the civilian workforce is a years-long process.
QuickTake Stealth U.S. Austerity
That said, there are a few short-term changes Congress and the Pentagon can make, should they so desire.
First is reforming retirement benefits, which bizarrely give a full pension to those who serve 20 years and nothing for those who leave earlier (the latter group is fully 83 percent of enlistees). A military modernization panel in January suggested cutting pensions for 20-year veterans from half their regular pay to 40 percent, and creating a 401(k)-style program with federal matching funds to benefit those who leave service earlier. The commission also proposed privatizing the Cadillac-level Tricare medical plan serving retirees, reservists and families of active-duty troops. The details may need tweaking, but the principle is sound.
One place not to look for short-term cuts is the overseas contingency fund, which Republicans would fund at $96 billion, an increase of $30 billion. One might question why the Pentagon, whose purpose is to fight wars, needs extra money to pay for fighting wars. The answer is simple: The core budget is intended as a peacetime figure for upkeep and improvement. If the generals had to build in funding each year just in case Congress or the White House sent troops into combat, the annual budget bloat would be even worse. Especially with the rise of Islamic State and a possible delayed withdrawal of troops from Afghanistan, adding to the contingency fund next year makes sense.
In the longer term, the Pentagon needs to address two questions: What are the most likely threats the U.S. will face in coming decades, and what is the smartest way to counter them? When asked by Congress earlier this month to list their most pressing concerns, Secretary of Defense Ashton Carter and Joint Chiefs of Staff Chairman General Martin Dempsey singled out non-state actors such as Islamic State and Boko Haram, as well as protecting European security against Russian aggression. Take these gentlemen at their words, but those answers are a budget nightmare, implying increased spending for both Cold War-era programs in Europe and nimble, modern operations elsewhere. The U.S. cannot afford both.
It's up to Congress and the White House, based on advice from the military chiefs, to break the tie. In Europe, the right response is clearly not a Reagan-style buildup but a strategic placement of troops, a stronger commitment and more spending from NATO allies, and continued reliance on diplomacy. The top priority should be non-state threats and countering the influence of China in Asia. This means more money for items such as unmanned aircraft, special forces, cyberdefenses and the shallow-water Navy, programs that tend to provide more bang for the buck than other spending.
Big savings can come from changes to major acquisitions and reducing personnel costs. At $27 billion each in construction and upkeep, for example, how many lumbering Ford-class aircraft carriers does the U.S. really need? And the Pentagon's civilian workforce, which has grown at four times the annual rate of the uniformed payroll, can come down by as much as 100,000. Meanwhile, another round of base closings and downsizing could save up to $17 billion over a decade.
These aren't easy choices. But they can be made in ways that won't leave Americans less safe. Future editorials will have more to say as the military-budget debate moves through Congress.
--Editors: Tobin Harshaw, Michael Newman.
To contact the senior editor responsible for Bloomberg View's editorials: David Shipley at davidshipley@bloomberg.net .
Before it's here, it's on the Bloomberg Terminal.
LEARN MORE