China Wants to Buy Europe
There are good reasons for a Chinese state company to buy tire maker Pirelli, but European governments should be wary of such deals.
by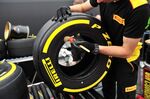 Chinese investors have a powerful attraction to companies in the European Union, and their targets are increasingly high-profile. In recent days, they've shown interest in an 18-building compound on Berlin's Potsdamer Platz and in the Italian tire-maker Pirelli. For some unfathomable reason, Europe considers Chinese investors, even state-owned ones, more benign than, say, Russian ones.