view
Transparent Win for Political Disclosures
Pressure is rising on corporations to disclose their political activities.
by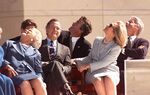 Campaign finance reformers often blame the Supreme Court's decision in Citizens United for opening the financial floodgates, enabling big donors to remain anonymous even as they increase their funding of political causes. Now, Citizens United may be the catalyst for somethamount ing else -- increased disclosure of political funding by American corporations.
U.S. Steel Corp. today becomes the latest corporation to agree to disclose its spending on candidates, political parties, ballot measures and other political activities. Ten other companies, including McGraw Hill Financial Inc. and Eastman Chemical Co., have adopted similar disclosure standards since the start of 2015.
A shareholder movement for corporate disclosure has been increasingly active since Citizens United was decided in 2010. The average percentage of shareholders voting for disclosure has roughly doubled, from 20 percent to 40 percent, since 2005. "The activist shareholders got a shot in the arm from Citizen United," said Ken Gross, a Washington attorney who advises corporations on election law. "It was one of the unintended consequences of the case."  
The Center for Political Accountability, which promotes disclosure, has joined with the University of Pennsylvania Wharton School's Zicklin Center for Business Ethics Research to produce an annual index ranking companies based on their disclosure policies. But not everyone is pleased at the attention. The Chamber of Commerce, Business Roundtable and the National Association of Manufacturers have typically relied on anonymous donations to fund their activities. Now, some of those donations are being revealed in corporate annual reports.
In a 2013 joint letter to Fortune 500 companies, the trade groups' presidents accused CPA and Zicklin of trampling their members' free speech rights; they urged corporations to resist the transparency campaign. The next year, Microsoft reported giving about $80,000 to NAM, $50,000 to the Roundtable, and $255,000 to the Chamber -- with instructions that the contributions not be used for politics.
The pro-disclosure forces are also benefiting from an activist state comptroller in New York, Thomas DiNapoli, who manages one of the world's biggest pension funds, estimated at $181 billion. "Shareholders need transparency in order to determine whether corporate political spending benefits the company's long-term value," he said in a statement. In addition to U.S. Steel, DiNapoli previously announced the addition of five other companies to the disclosure regime, including Valero Energy and H&R Block.
Almost half of S&P 500 companies have adopted some kind of guidelines for political giving in recent years, but the degree of disclosure varies greatly. Of several dozen companies that the CPA/Zicklin index ranks in the top tier of disclosure, most give a full accounting of their political activity. Some list trade groups to which they belong without revealing the size of their donations. Others contribute to so-called social welfare committees organized under 501(c)4 of the tax code, which are politically active but don't disclose donors. JPMorgan Chase and 107 other companies have banned contributions to such groups.
But the tide of undisclosed money won't easily be turned back. Political spending by 501(c)4 groups rose from $5.2 million in 2006 to $300 million in 2012. Virtually everyone who raises money expects it to rise again -- significantly -- in the 2016 election. 
(Corrects estimate of New York pension funds in sixth paragraph.)
To contact the author on this story:
Jeanne Cummings at
To contact the editor on this story:
Francis Wilkinson at fwilkinson1@bloomberg.net
Before it's here, it's on the Bloomberg Terminal.
LEARN MORE