Obama's Empty Message to Iran
Obama promised Iranians a freer nation. His nuclear deal won't help.
by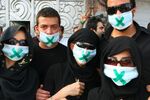 Like almost all dictators, Iran's supreme leader has a legitimacy problem. Most Iranians today are too fearful to take to the streets and demand a government that represents them. (They tried in 2009 and 1999, and paid in blood.) But deep down, Ayatollah Ali Khamenei must suspect that millions of his own people quietly loathe him.