Why We Need Law Schools
Law school teaches students not only what the law is but also what it can be.
by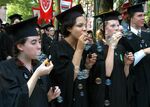 Who needs law school? For centuries, the answer in the English-speaking world was: no one. You prepared for the bar by serving as an apprentice or an intern alongside practicing lawyers. Sure, you had to read a lot of cases. At first, they probably made no sense. But over time, you learned by watching and doing to connect the decisions in the books with real cases and real clients.